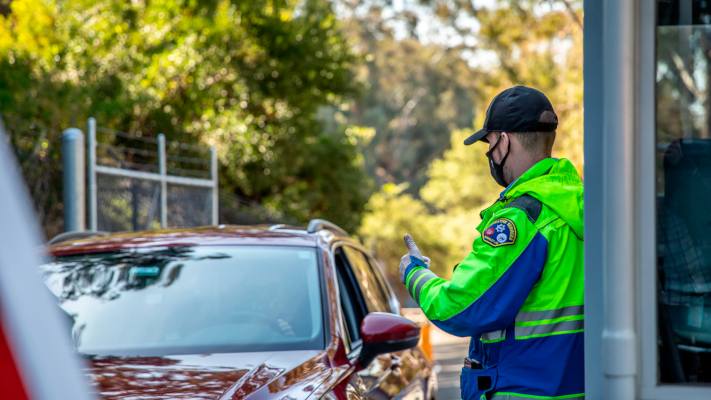 Changes to Site & Building Access
Badged personnel must use their LBNL badge to gain entry to the site 24/7.
Badges are required for building access 24/7.
Parking permits are required to park on site but no longer utilized as a valid entry credential.
Personnel are required to wear their badge in a visible location while present on the site or in an LBNL off site facility.
Please submit all requests for business guests, visitors, vendor, and ride share access through the Site Access Management System. If you have any questions contact the SOC at (510) 486-6999 or SOC@lbl.gov.
Berkeley Lab uses keys or the electronic Access Control System for building or room access. The access control system is used for exterior perimeter doors to most buildings, as well as some individual labs, offices, and equipment. Access is linked to the Berkeley Lab HR System and is updated with the employee or affiliate's current appointment status. If a staff member's appointment end date has expired, their access will be suspended.
Hours & Requirements
LBNL BADGE HOLDERS
ACCESS REQUIREMENTS
GATES

ALL  Pedestrians, bicycles, vehicles, shuttles

Employees and affiliates will badge in at the gates
Employees and affiliates riding the shuttle will have their badges checked at the gate
IF YOU DON'T HAVE YOUR BADGE: Please access the site via the Blackberry Gate and expect additional processing time to be verified and provided a temporary badge.

Blackberry Gate: 24/7
Strawberry Gate: M-F 6AM-7PM
Grizzly Gate [Vehicles]: M-F 6AM-10AM
Grizzly Gate [Pedestrians/Cyclists]: M-F 6AM-8PM
Grizzly Gate Exit [All]: 24/7 
NON-BADGE HOLDERS
 

BUSINESS GUESTS & VISITORS

All business guests and visitors will need a request submitted by their host; only LBNL employees can host guests
Business guests and visitors riding the shuttle will be expected to de-board and get processed at the gate entrance
A valid government ID is required to enter

Blackberry Gate: 24/7
Grizzly Gate: Vehicle Exit Only 24/7

CONSTRUCTION WORKER

All construction workers will need a request submitted by their host; only an LBNL employee can host guests
A valid government ID is required to enter, drivers must present a driver's license

Blackberry Gate: 24/7
Grizzly Gate: Vehicle Exit Only 24/7

VENDOR / DELIVERY / RIDE SHARE

Routine vendor and delivery truck drivers will need a valid government issued driver's license to make their deliveries on site
For food deliveries or ride share requests (i.e. Lyft, Uber, UberEats, etc.) use the Site Access Management System and contact the SOC with any questions (510) 486-6999 or SOC@lbl.gov.

Blackberry Gate: 24/7
Grizzly Gate: Vehicle Exit Only 24/7